Did you know that it is possible to create a website with Notion ? And this in 2 minutes and for free? This is what I explain to you in this article + video!
To read also: the step-by-step guide to getting started with Notion and how to create Notion templates.
🎁 Free: the Notion ebook in PDF is available (85 pages)! It helps you to use and exploit Notion for your business and / or for your personal organization. Download "Getting started with Notion" free here …
1 – When should you create a website with Notion?
It is quite possible to create a website with Notion, but I do not recommend it in all cases.
Indeed, if you wish create your business website, you will quickly be frustrated in the design and in the features offered by Notion. And let's not even talk about SEO …
On the other hand, in certain cases, one could consider to use Notion to create a website, for example :
A CV site: it's a really good idea! If you're a student and want to quickly share your resume with an employer, you could create it with Notion. In addition, you can export it as PDF if you need to give it in paper format. You will be able to impress your interlocutor with the use of an application that he certainly does not know yet 🤣.
A Portfolio site: if your goal is to share some photo galleries of your achievements, why not? It's always better than telling your customers or friends to go visit your Facebook page (OMG)!
A documentation or support site: you might be offering a SaaS service for example and you might decide to host the documentation on a separate site. You can then create a Notion site to publish all help pages. It is the choice made Flag for example and Notion.so of course.
An essay or news blog: why not use Notion instead of Way for example ? You could publish your articles on your own site.
Want to get started in blogging? My WordPress Training Guide in PDF explains step by step how to create, manage and promote your site or your blog! This 770 page ebook is the equivalent of a full 5 day training.
2 – Create the pages of your site
For create a website with Notion, you must first create the pages within your dashboard.
You can create a dedicated Notion account or use your own account, and in this case, don't worry, the other pages in your Notion account will remain private and will not be accessible to your visitors.
As a first step, you must create home page of your site:
In your dashboard, add a new page
The title of this page can use the name of your site or the word "home", as desired …
Start building the architecture of the site by listing all the pages that will make it up.
For this you will use the block "Page".
Then, within your pages, do not hesitate to use the Table of contents block to create a table of contents that allows you to list the titles of your page and reach the desired sections more quickly (optional).
Within the other pages of your site, I recommend that you use the block breadcrumbs which will allow Internet users to navigate between the pages of your site. This breadcrumb trail will replace the site navigation menu. Place it directly below the title of each page.
For the rest, use all Notion blocks at your disposal to create the content of your site (images, videos, texts, titles, etc.).
3 – Publish your Notion website with Notelet
Publishing a Notion site takes just 3 seconds! But that's not counting the time to create your content, of course !
So, once you have created all the useful pages for your site (page Home, page About, page Contact, etc.), here's what you need to do:
Go to your home page and click on Share.
Check that the option Allow duplication as a template is deactivated.
You can optionally enable comments.
Copy the link.
Then go to the Notelet official website. Click on Try without registration.
Give your site a name: do not use spaces or special characters.
Paste the link in the dedicated field.
Click on Launch site.
You can now visit your site "live".
If your site suits you, you will have to click on Register now to create an account and officially register your site. Without this action, your site will disappear.
Registration is quick: an e-mail address is sufficient.
The interface of Notelet is also very uncluttered.
Notelet's tariffs
Note that Notelet is a free service if you use it for 1 website. The premium version costs $ 7 / month. It allows you to publish multiple websites and connect your domain names. In this case, your site will become accessible at the address domain-name.com instead of domain-name.notelet.so
4 – How to add a contact form?
Notion does not natively allow the creation of a contact form. You will therefore need to call on an external service such as Google Forms or Typeform.
The Typeform block is precisely intended for that:
However, the Typeform pricing are quite substantial, however, you can start with a free plan:
5 – Optimize a website Notion for SEO and UX
If you created your website with Notion, you must have noticed that it is not really possible optimize SEO as we are used to doing in WordPress and that the user experience (UX) is not at the top:
Permalinks are not optimized (pretty permalink): they display a series of numbers and letters, it is not possible to modify them with keywords natively.
You cannot define an SEO title and a meta description for each page.
There isn't really a native navigation menu.
Etc.
After Notelet allows you to act on several of these points precisely:
A logo can be inserted in the navigation menu.
A navigation menu can be defined.
External links can be inserted in the navigation.
A favicon can also be defined.
The use of an SEO title and a meta description is also possible, for all pages.
Notelet also allows to:
Choose from 8 different typographies.
Add various JS scripts including the Google Analytics tracking code (UA- code).
Optimize slugs to display optimized permalinks.
And the good news is that this is possible from the free version of Notelet! I will explain in detail how to perform these optimizations in a future article …
6 – The other alternatives
Notelet is not the only service that allows you to publish a Notion website. The Pagebly service also allows this functionality. There are certainly others …
However, note that Notion's premium plans allow you to activate the option "Search engine indexing". In this way, search engines such as Google might be able to index the pages that you have made public (option "Share on the Web" ):
On the other hand, by using this native functionality of Notion, there will be no optimization possible (for the moment), as allowed Notelet.
Well, I believe (I'm sure of it actually), What WordPress remains THE ideal solution to create a professional site.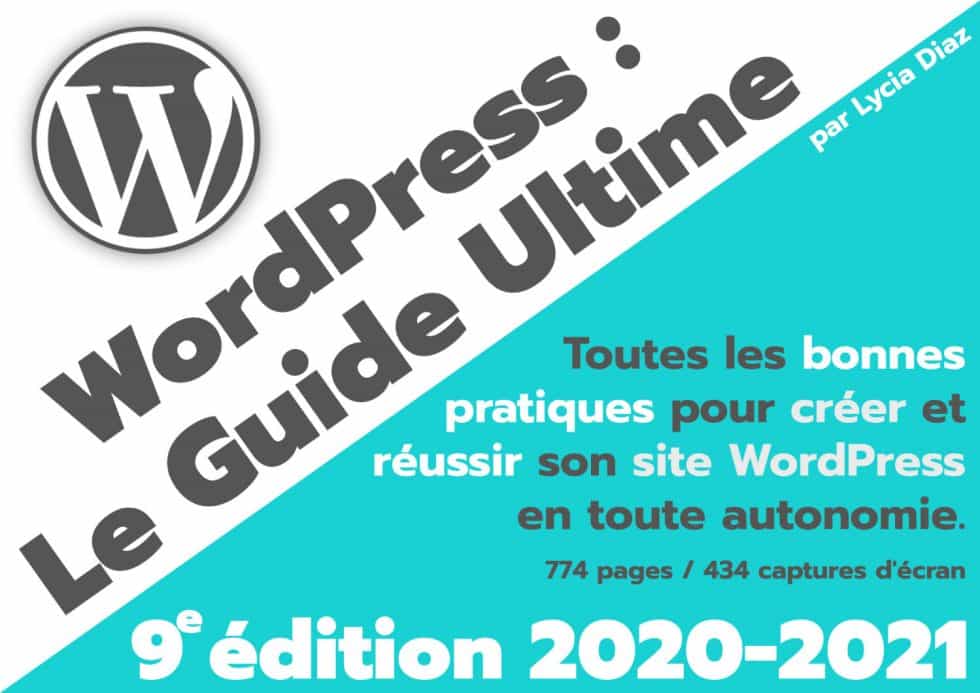 Need to create your site? Discover
my WordPress guide in PDF
: a training course of more than 770 pages of step-by-step tutorials to guide you in learning this CMS. You will be amazed! Others have succeeded, why not you?
7 – Create a site with Notion: video tutorial
To conclude this article, I suggest you find these explanations in this video:
I am also interested in your views on the issue of create a website with Notion… What do you think ? Would you be ready to opt for this solution?
do you know that
The Webeuse
offers training to help you find your place on the Web?