You are new to the web and you need quickly acquire some notions of SEO to start referencing your site? Discover 5 astuces SEO easy to set up. Even if you don't know anything about it.
Why ? Because to improve the natural reference or SEO of your site is one of the best strategies for gain notoriety and visibility ! A site ranked first on Google receives a lot of traffic, and who says traffic says readers> subscribers> prospects> customers. It is the ideal course that any company aims to increase its turnover.
Rest assured these tips are easy to apply and quite within the reach of any WordPress user, whether you are a novice or a beginner!
This article is from an interview with Sylvie Massey, a digital consultant specializing in website optimization and natural referencing. More precisely, it assures a role of trainer and advisor, that it is upstream of the creation of your site, during the design and even after it is created. Its goal is to make its customers autonomous by the principle of "4 hands creation".
Formerly a mathematics teacher, Sylvie Massey started 3 years ago in the Web as an entrepreneur! You can easily find her on her site 2CAWEB (Advice, creation and support on the Web)!
So, if you are just starting out, take some notes, as these 5 astuces SEO will be very useful to you for improve the SEO of your site and therefore your positions in Google!
SEO Tip # 1: Optimize SEO Title and Meta Description
Often overlooked and yet so easy to optimize, the Titre SEO and the Meta Description are definitely two things you can do without any problem.
An optimized SEO title and Meta description significantly improve the ranking of your publications.
Getting a good positioning on your brand name: this is the first thing to aim for and which you can achieve easily.
Then you will target other keywords, beyond your brand name, and little by little you will gain positions in the SERP (search results pages).
For this you need an extension such as SEOPress, Yoast or Rankmath. These extensions are real guides and allow you to follow the steps to optimize your publications.
But above all, these extensions allow you to customize and optimize the SEO Title and Meta Description of each post, because WordPress alone does not allow this type of optimization.
Yes, you read that right : each post.
So what does that mean? Well every time you post any page, article, or product from your store, you need to optimize your SEO Title and Meta Description using one of the plugins mentioned above.
Be careful, one of the plugins, not all 3!
By using SEOPress, Yoast or RankMath, you will see a "box" at the bottom of each publication, this is where you can optimize Title and Description which will then be used by search engines like Google.
Optimizing, what does that mean? You will be sure to place your main keyword in the title and description. Be clear, concise. And take advantage of the Meta Description to be impactful, to encourage Internet users to click on your result rather than that of your competitor!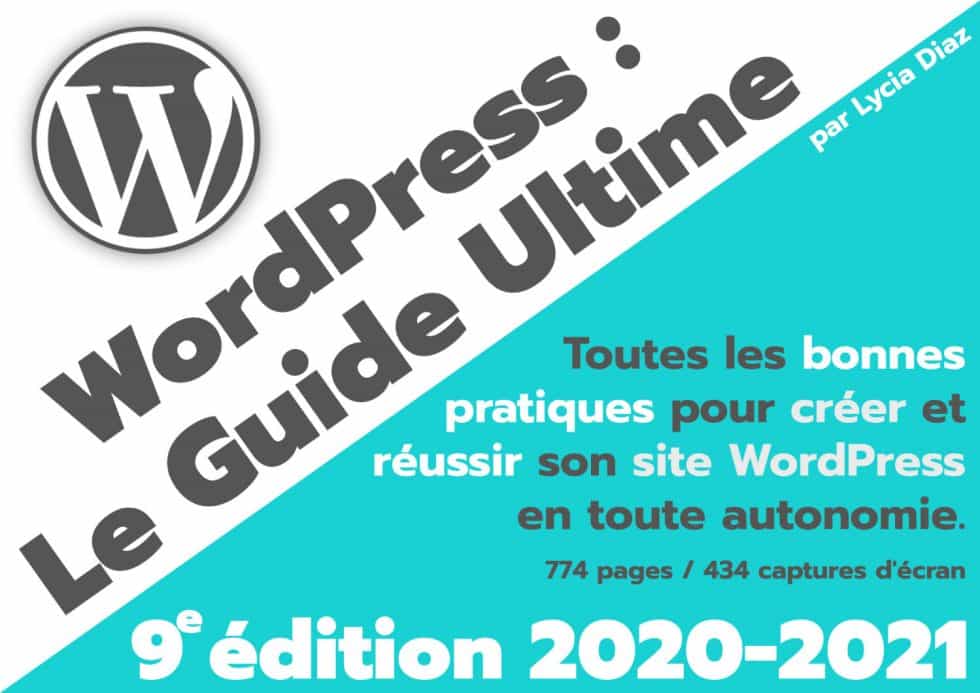 Did you create your WordPress site on your own or did you entrust its design to a service provider? Check if your site is well built, if its architecture is good and if the best practices have been carried out …
My WordPress guide in PDF
accompanies you step by step in the creation of your site but also in the verification and understanding of it. Do not delay in correcting the "mistakes of the past".
SEO Tip # 2: Meet Customer Needs
For a good natural reference, you have to keep in mind that your website is, first of all, made for your target. It is then necessary to understand its target, what it needs and what it is looking for: you have to know your ideal client !
Because this will allow you to adapt the elements of your site to meet them! Indeed, adapting the content (texts, videos, images, visuals) makes it possible to reassure the customer on your site.
But how do you go about answering them?
To ensure that your content is in line with the needs of your target, he is judicious write articles that answer general questions from prospects and customers by addressing them directly. It's as simple as that.
I assure you that a good position on Google and therefore a good natural referencing can be acquired very easily by addressing your visitors directly! And for that, your blog will be your best ally.

Sylvie Massey
SEO tip # 3: earn keywords with blog posts
Keywords are the very basis of good SEO. Within your articles, insert relevant keywords and related to your theme is strongly recommended for 2 things: to be better referenced and increase traffic.
A post with keywords is great content on your blog, but a question may arise: how many words does it take to have a good article?
If you are asking yourself this question, the answer is just observe what Google offers when you enter your target query and do better! It may seem logical, but not everyone thinks of watching what the competition is doing.
The principle of keywords, when we are not experts in natural referencing and we do not have a large budget, it can be complicated!
But you can use the technique of "The article which answers the general questions of your target". And the article is well written, the keywords will emerge naturally. It makes a lot of sense and it won't take a lot of effort from you. You will position your site naturally, without the hassle …
Therefore, blogging to improve a site's SEO, whether it is a showcase or e-commerce, is a strategy that often pays off, which I recommend to all my clients!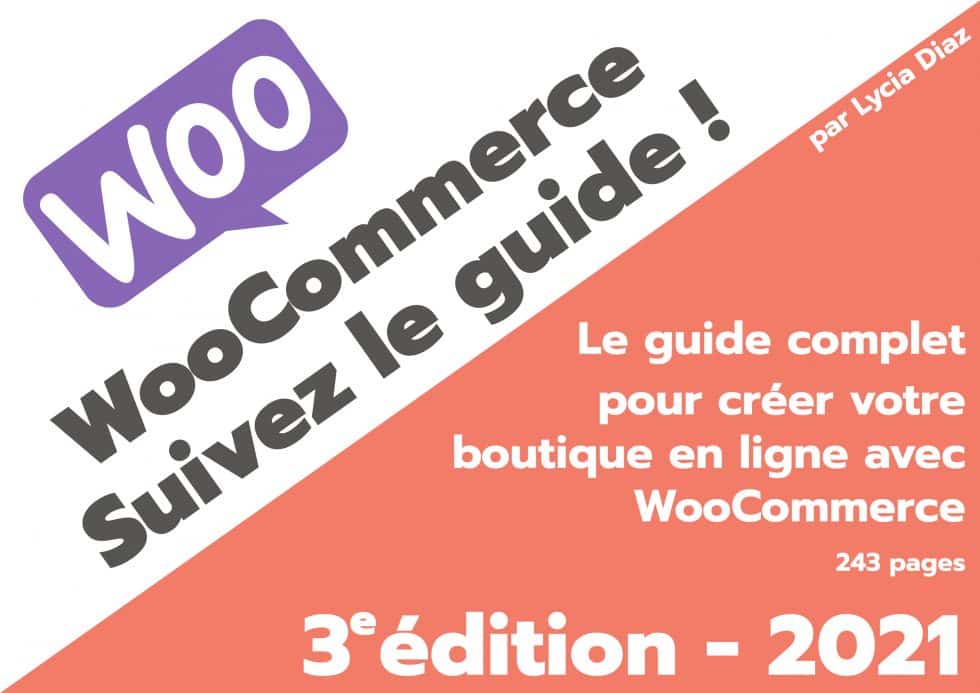 Need to create your online store with WooCommerce? It's easy with my ebook, just follow the guide !!! Discover my
guide WooCommerce and PDF
. Good news, it has just been updated: more than 240 pages to teach you how to create your store.
SEO tip # 4: use social media to generate traffic
Once your site is created, you can not only rely on its positioning in Google. Indeed, with the site only it will be difficult to make it known and generate traffic. This is why we should not neglect the impact of social networks! Indeed, networks are a gold mine and an effective way to promote your website!
Read also : backlinks from social networks
But you tell yourself that you don't necessarily have the time to manage social networks in addition to your nascent business? Don't worry, some techniques are quite simple and effective to implement!
Add, at first, the link of your site on all your social accounts in order to relay it. In addition, you can promote the articles on your blog!
My tip: you can make multiple social media posts from a single article: either by cutting it out, or by showing it from a different angle. Be careful, don't forget to include the link of your article in order to generate traffic to your site!
SEO tip # 5: work all the links
To improve your natural referencing Above all, we must not neglect the links! We can divide the large family of links into 3 categories:
The internal links (internal mesh),
The external links (outgoing links)
And les backlinks (links that point to your site).
Internal links or "internal mesh"
The internal links are easy to set up and are very important. This amounts to putting links between the different articles on your blog that have the same theme!
For this it is possible add a link anchor, that is to say a keyword on which we add the URL of the recipient article, and this is taken into account by Google! You still have to vary a little so as not to put the same anchor all the time.
External links
The external links are not difficult to do either. To have some, you have to put in your articles some links which redirect to reference sites (serious sites) which prove that we do not tell just anything!
You don't have to insert a lot of them (2-3 links maximum per article). Afterwards, depending on the size of the article, we can adjust the number of links: the longer the article, the more it is possible to insert external links. But be careful all the same to remain reasonable.
Les backlinks
The backlinks significantly improve the SEO of your site, unfortunately it's a bit more complicated to achieve.
Backlinks are links from other sites that point to your site.
It is complicated to acquire them and especially to ensure that these sites are serious and reliable. If an authority (notoriety) site links to your site, that is of great value. And vice versa.
It is possible toget backlinks for free, or you can be part of a quality directory like Doctissimo, for example. Otherwise, you can buy backlinks from specialist sites.
The netlinking (this technique of getting backlinks) takes a lot of effort, but in a long-term investment idea, it makes sense and is worth it I assure you!
Another tips to get some: write super quality articles that will end up being cited in other sites.
Achat de backlinks
Obviously he is possible to buy backlinks but when you start it is not necessarily a good investment. When we buy backlinks we are therefore linked to specific keywords! But sometimes when you start your activity, it is not necessarily the activity that you will be doing in 6 months, or even in 1 year. It is difficult at first to start in the right direction, so it makes sense to reference yourself in a natural way. Remember that Google is trying to copy the behavior of humans. Thus, the closer we get to our ideal client, the more we will like him and the more we will like Google!
Video: 5 SEO tips to get started, with Sylvie Massey
And finally, I suggest you watch the full interview with Sylvie Massey. We have condensed in this article the 5 astuces SEO that anyone can set up on their WordPress site, but in the video you will discover a lot more! And also, you will discover Sylvie's good humor 😉