The impact that web design has is so important nowadays, that is why it is necessary to work in a specific way to attract as much traffic as possible.
However, in order for People who come to our website and carry out specific actions (subscribe to the newsletter, buy our products, follow us on social networks …) should use inbound marketing . But … what do we mean by this term?
When we talk about inbound marketing we are referring to a very effective strategy that should be applied just when we are focused on design from our website. The two fundamental objectives of this marketing strategy are to attract and retain customers who are interested in the products or services we sell. For this reason, web designers must be familiar with this concept so that the result is the best, since what we want is to design a website that has results .
Despite the fact that the concepts Theorists are important to know inbound marketing in depth, I think that the examples can help clarify how to implement this strategy during the design of our website. Well, although it may not seem like it, the concept of inbound marketing is still quite unknown . Let's see next how web designers can apply this strategy.
Do you like what you are reading? Subscribe to the blog!
How to design websites for an inbound marketing strategy?
It is very important that designers know how to apply inbound marketing in web design to get leads . To achieve this, there are a number of steps that must be performed in the order that I will set out below and that should not be skipped for any reason.
All of these will allow designers to create an attractive website with which to brand new customers. that they land on the web, at the same time that they reconquer those that already are.
Could you create a website without paying attention to inbound marketing? The answer is "yes", but we would forget about those objectives that will make it possible to obtain results .
Because web design must not only be aesthetically attractive, functional and intuitive. It should also guide each customer towards the purchase, subscription, etc. If not, what is the point of designing a website? Let's discover what first steps web designers should take. Stay with them!
1. Determine which is the ideal client
The first thing web designers should do first of all is to know the ideal client very well. Thus, they will be able to know what that client wants to find when they land on the landing page, which is the navigation system that will work best for them and work on a web design that answers the possible questions that that user can be done.
We can see a very clear example with different websites of clothing brands . Isn't it true that before summer comes there is a sale section? To what customers can create their own account and bookmark their favorite products or what they want to buy?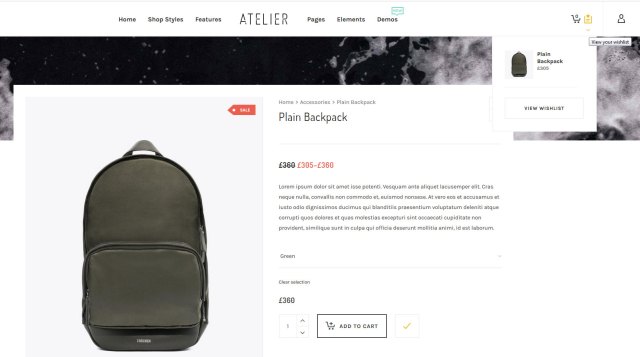 Thus, web design applies inbound marketing taking into account this first step that web designers cannot skip: who is the client that is going to land on the web page.
2. Analyze where the clients come from [19659017]Social networks, blog articles … there are many places from which customers can reach our website. Although it may not seem like it, this gives a lot of information to web designers, who will know if what customers expect is more visual elements (those that come from Instagram), resources that they can use (pdf downloads or ebooks) or valuable content that can be provided through a blog.
Depending on the needs of customers, the items will be distributed in a certain way. For example, a web page on resources and marketing strategies may present a button on the landing page that allows customers to download a free pack after entering their name and email to receive future news, offers, discounts or information that may be of interest to you, immediately, in your email.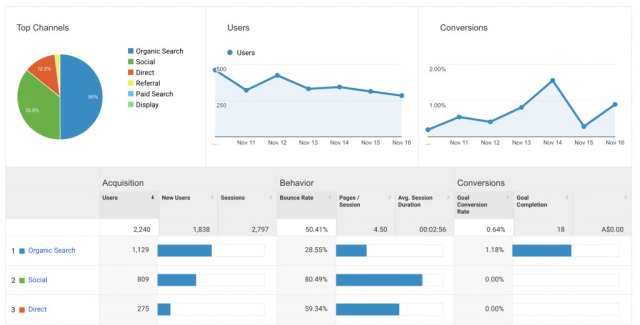 3. Implement a simple design
Simple, attractive and usable This is what web designers will achieve after the two previous steps Because a w eb should not raise doubts or make customers have to click multiple tabs until they get where they want. This can frustrate them and make them go back and choose another website to find what they are looking for.
However, web designers should not confuse a simple web design with one lacking essential information . Because here again, inbound marketing must be present.
For example, selling vacuum cleaners may be fine, but if there is only a brief description of each model and its price on the web, why should customers buy them and not choose those of another brand? That is the question the information in the description should answer.
4. The entire web set must justify its purpose
This is a phrase that web designers should always have present, there is no Nothing better than viewing the web as a map that guides and tells a story that answers essential customer questions.
Thus, we can think of a natural cosmetics website in which the customer can be involved in what the starting point of the idea of marketing these products, their need and demand, as well as their benefits. These are some ideas that work.
The fact that there is a reason for creating a website makes customers feel attracted, stay to know more and reach the product or service they want. They need.
This is inbound marketing and it doesn't matter what the web sells. Whether it is clothing or vacuum cleaners, natural cosmetics, second-hand books, etc. If you work on inbound marketing in web design, the website will attract customers and take them by the hand to the final action.
5. Emotions are fundamental
All of the above is fine, but to get to the hearts of customers web designers must get the website to convey emotions .
We better look at this with an example: Now that summer is approaching, the interest is focused on losing weight, toning and improving some parts of the body that may have accumulated fat or suffer fluid retention. Bingo! The main image of a beauty and aesthetics website should show this. The client will say to himself: "Wow, this is happening to me, is there a solution?". Concern, curiosity … emotions!
The client wants to know what can solve the problem and, for this, the most complicated thing begins, to guide him. An icon that says "free first session" will make you feel a great relief for not having to spend money and being able to prove if the treatment convinces you, for example. Web designers must place this in a visible part for the client to see it clearly.
But this does not stop here, since the client has not yet reserved his session. How inbound marketing can make you take that step? Putting opinions of customers who have tried the web treatments, placing before and after images etc. There are many options, and the client will feel emotions such as hope and hope. Click is assured!
6. It is important to measure the results
The last of the essential steps, before delving into more concrete aspects of inbound marketing, is to measure the results. Web designers cannot skip this because the information they will receive will help them make adjustments to the web design, modify certain elements and create a website that meets the needs of users and, at the same time, is profitable. .
For this, it is advisable to prepare reports every 15 days (at least) and pay close attention to statistics that may yield information of interest. Google Analytics, Alexa, SemRush, etc. There are some applications that can be basic to carry out this last step and that will make the difference between a job well done and one that is missing something.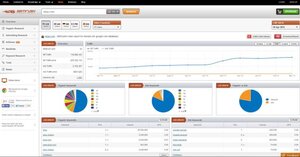 Elements and trends of web design applied to inbound marketing
Now that we know that inbound marketing can be effective and requires a periodic measurement of results to achieve a website that works the time has come to fully delve into much more specific aspects. Trends used in web design applied to l inbound marketing and excellent results.
Scroll
Scrolling, also known as scrolling, is a widely used trend in web and content design. In a visual way, we can explain the scroll as the horizontal or vertical scroll that customers can perform on the web screen without the need to load a new page.
Depending on the website, this may go to the extreme and make an infinite scroll. The objective? Bring the client to the call to action in an easy and fluid way.
A very clear example can be seen on the Mighty Matcha website, where users only have to use the scroll wheel of their mouse to discover the type of tea they sell and what differentiates it from other brands that sell the same.
Another example, but now of infinite scroll, we find it with the social network Pinterest . The images happen without end, and this causes users to browse without limits and without anything interrupting them. This will make them spend a lot of time on the web.
In the event that, for design reasons or because the scroll on the main page is not working as well as expected, this element could be placed in the conversion phase . In other words, when the client is feeling the emotions that make him feel close, confident, curious and wanting to buy or click "yes, I need your service."
Right at that moment, the scroll will be our ally so that the customer does not have to go anywhere else. The call to action will be right in front of him for him to click without a doubt.
What do we achieve with the scroll? Smooth reading by the customer, without waiting for pages to load and without the need to click. A subtle way to take each customer hand in hand towards the purchase of an item or service, while increasing their confidence and, above all, it is increasingly clear that our product will be very useful.
Icons [19659017] The icons in web design applied to inbound marketing are another of the elements that should not be overlooked, and it is that… how many times have we underestimated them?
Like many other aspects, such as striking images and Of high quality, the iconography, sometimes, usually stays in a second or even third place. However, we forget that it is essential to capture the attention of customers. The reason? We are surrounded by icons although we have never stopped to think about this.
Just by going outside, we can already realize that the icons flood every place we travel through. Traffic signs, the icons we use when using instant messaging, a zebra crossing, the "exit" logo in the building we live in or the "cruelty free" logo on the hygiene products we buy … everything is full of icons. As important as they are, how can we not give them the prominence they deserve in web design?
The appropriate thing in these cases is to personalize them . Within the web design applied to inbound marketing, it is convenient to make a difference and build trust in customers who access the web. This can be achieved by using different icons. For example, if we are dealing with a healthy eating website, designing icons in green or containing some unique details would be a good idea.
We have a very clear example with the Conscience and Nutrition website. In it we can see how the icons, regardless of whether they refer to the statistics or to the advice section, are all surrounded by a kind of twig with a leaf at the end that represents awareness of healthy and natural nutrition.
Another example of custom icons can be seen on the BandeGel website, which maintains the design and color of the logo itself. As we can see, the work is very successful, since the icons convey what the brand wants. There is inbound marketing.
With this, it is not surprising that when a client enters this type of website, web design catches them, since it has been applied perfectly this second important element within inbound marketing. And it is that the icons (we recommend those of Font Awesome ) must also convey the essence of the brand and connect with the values of customers. A sustainable website whose icons are green and convey that love for protecting nature will make customers feel in tune with the value of the brand and are interested in what our products have to offer them.
Usability & buyer's journey [19659017] Usability is a well-known concept when it comes to web design, and it also has a special presence in inbound marketing. This term refers to the page through which users browse is simple, very intuitive, pleasant and, above all, secure . But how does this relate to the buyer's journey?
The buyer's journey is the active search that customers make until they buy the product or service offered by our website. Our goal is to make it easy for them, that is, they can find what they need with little effort.
How many times have we searched for something in particular and no matter how much we went through the pages of the browser, we did not find it? Well this can make us lose clients.
Let's give an example. A person who sells sofas, armchairs, and chaise longues wants to attract more customers. He knows he must do this thinking of a strategy, but he has no idea. So, search the Internet "how to create a strategy to win more customers." Among the first results must be a post that takes you to our website. We achieve this by working with SEO, not only in articles, but also in web design. An optimized, usable, intuitive and pleasant website will be in the first positions of the search engine .
We continue. The client is already reading our post and realizes that everything is much more complex than he thought. Need help. Normally, you will click on a link that we have placed to take you to an offer and conversion phase. It can also happen that the client goes directly to the main page and, from there, begins the process of guiding them towards the acquisition of our service. As we mentioned previously, even if the client accesses the rates, services or projects page, all of them must justify the purpose of acquiring our service .
When the client is in the phase of conversion, there we must offer you the solution you are looking for. In this way, you will not hesitate to contact, even if it is to resolve any doubts you may have. Why is this successful? Because the customer's questions are answered at all times, since our website gives you the answers you need. Now that we know all this, we are going to simplify it with some simple keys:
The product must be visible : if customers cannot find the product or service they are looking for on our website, they will not click on the call to action .
Structuring the content in a coherent way : the internet is not read, it is scanned, and this must be made clear. Short and clear messages must be transmitted.
Avoid submenus : this should be done whenever possible, without forgetting that the menus must be clear and use the vocabulary of the clients.
Accessibility : be it in the contact section, frequently asked questions, how shipments are made … All this must be accessible and easy to find.
And use the buttons: they avoid having to navigate through the menus and help users to access what they need (download a pdf, subscribe to the newsletter …).
Reduce the number of clicks : the most important key is that web design minimize the number of clicks for the page be usable, intuitive and pleasant.
We must be very clear that it is useless for the page to answer the question asked by each client and that everything complies with the steps previously exposed if the website is not usable, is poorly structured andthere are sections that are difficult to find. The client must always facilitate the journey to acquire the product or service that we are offering .
Graphic elements and lead nurturing
The last of the key points that we are going to comment on the design Web applied to inbound marketing deals with graphic elements and lead nurturing . It is clear that within the web design the graphic elements are basic. They not only have to be attractive, but useful .
This will allow if, at some point, the customer is distracted or wants to see another specific page (it is usually the price page if it is present) , it is possible to orient it again towards the main objective, which is the purchase of the product or service.
For this, it is necessary to eliminate the distractions . It is not logical that, if we want to sell a product, a button suddenly appears in the middle of the screen for the customer to subscribe to the newsletter.
What really is our objective? The purchase. Therefore, it is better that this subscription is on a part of the screen without it disturbing so that the client can continue with the journey that is consistent with the goal of our website.
With regard to forms, are they necessary? Yes, so that the client can send his questions, if he has them, or request a personalized quote, for example.
However, the fields to be covered must be limited . The reason is that the more fields, the more possibilities there are for the client to doubt his decision. Since you have been correctly guided, we must facilitate the process, also, at this point.
Name : in most forms it is mandatory and allows the user to appear to communicate their doubts or questions that they may have arisen.
Mail : it is essential, since it will be through the email where the client will receive the answer to their request for a quote, for example.
Message : the part in the that the client will expose his doubts, suggestions, questions or requests briefly or extensively, as needed.
Submit button : it must be under the form, visible, and we should make sure that it is configured to that the answer reaches our email.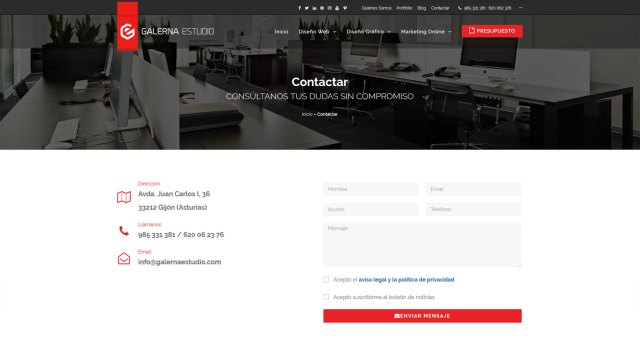 Once we take this into account, forms are also important to maximize conversion rates Having information about customers will improve the actions carried out within the website. many pages require customers to register. But for clients not to run away, very little information has to be requested.
What is lead nurturing really? It is a marketing technique that consists of guiding customers, making their buying idea mature as they progress to the call to action.
This may be done by welcoming messages or subscribing to a service, promotions, etc. . Let's see this with some examples.
The first lead nurturing example can be seen with Dropbox. What happens when we link our computer to this cloud hosting? Well, the following message arrives: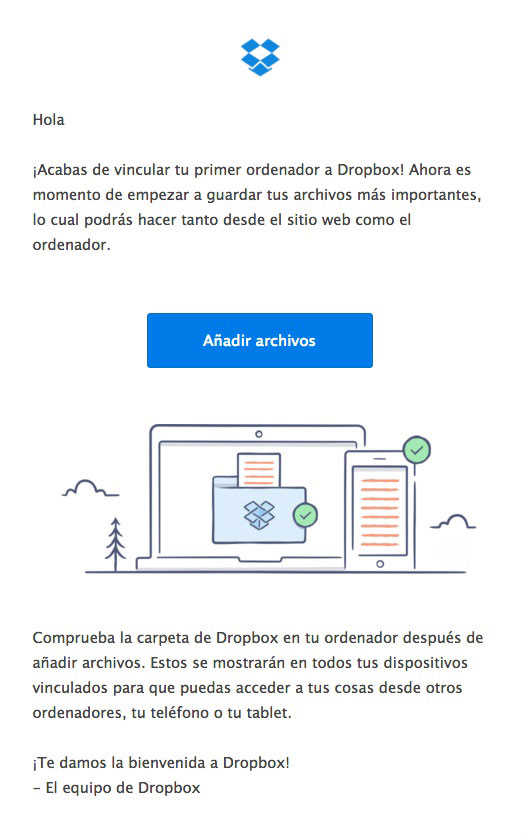 After this message a button appears," add files ". A very effective welcome lead nurturing.
A We have the second example of this technique with the Casa del Libro. In this case it can be a promotion:
"Hello. Last hours to enjoy a 10% discount in all the books, ebooks and movies selected with great care for mothers. Take advantage of this discount here, it is only today! "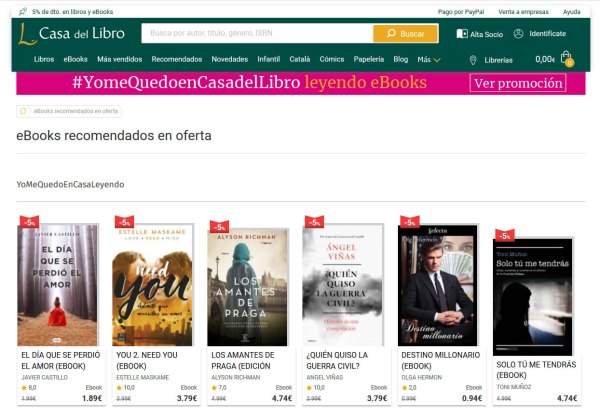 In this case, what we have is a promotional lead nurturing.
It is important to clarify that, although the lead nurturing is common to see it in email marketing, its use has spread to pop-ups or certain sections on the website itself. Therefore, podem I will talk to you about a multichannel marketing strategy that is very effective and that achieves this acquisition by the client of the product or service that we offer.
With everything we have seen, it is clear that inbound marketing in web design is a strategy that works very well and that we should implement right now. The objective is for customers to get to know the brand, immerse themselves in the purchasing process and end up acquiring the product or service that we offer. All the elements mentioned previously will help us achieve this purpose. For this reason, web designers must be highly knowledgeable about inbound marketing, a strategy with many points in its favor.
Do you have any questions or would you like to add additional information? Share it in the comments section!