<
div> They have been available in Google Ads for a while, a type of campaign that if you use Google Shopping you are interested in knowing. These are the so-called Smart Google Shopping campaigns, which allow you to show your ads in multiple positions in the Google inventory and thus increase conversions.
What are Smart Shopping campaigns
They are a campaign subtype that combines standard remarketing campaigns for purchases and displays and use automatic systems of bidding and ad positioning to promote products on different networks.
These campaigns will display the most relevant ads on Google Networks, such as the Google Search Network, the Google Display Network, YouTube and Gmail.
Requirements for creating a Smart Shopping Campaing
This type of automated campaign requires machine learning, therefore they need preliminary information for decision making. To activate Smart Shopping campaigns, the following requirements must be met:
Have a history of at least 20 conversions in the last 45 days in active Google Shopping campaigns. Obviously for this we must have configured Google Ads conversion tracking.
Have a remarketing list with at least 100 users.
I implemented the global tag or the Google Analtyics tag.
Linked Google Ads and Merchant Center accounts.
Sets the value of each transaction.
Return on advertising investment target (ROAS)
Smart shopping campaigns automatically maximize the conversion value within the established budget. If you've assigned a minimum performance target to a campaign, you can also specify a target ROAS. For example, if with a campaign you want to get a value of € 7 in sales for every euro spent on advertising, you can set a target ROAS of 700%. If a target ROAS is applied, the bids in this type of campaign will be optimized to reach it without exceeding the daily budget. Care should be taken to set a ROAS that is too high, as the entire budget may not be used and total sales may decrease.
Create a Smart Shopping campaign
If we meet the above requirements, we can create a campaign in Google Ads for Smart Shopping, selecting the type of campaign Shopping: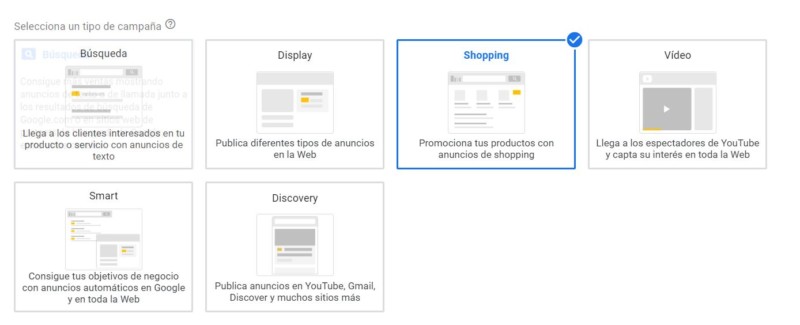 And then later, in the type of campaigns, if the Campaign option is displayed smart Shopping, means that we meet the requirements and we can select this type of campaign:

Comparative Google Shopping vs Smart Shopping
This campaign is of the same customer who used campaigns in the past and standard Google Shopping.


Here the switch to Smart Shopping campaigns, there is an increase in the number of conversions and, what more interestingly, a 25% reduction in conversion costs (eliminating the COVID-19 effect of the last few months).


This type of Smart Google Shopping campaign will cannibalize standard Google Shopping campaigns and also campaigns remarketing dynamics associated with the data feed, so try following a series of recommendations to verify its effectiveness.
You must allow Google machine learning to optimize your campaigns. About two weeks to evaluate the performance of smart campaigns .
Can be triggered by ad groups based on product categories that exist on the web and pause these same groups in the regular Shopping campaign. In this case, Google also recommends pausing the same group if it also exists in dynamic remarketing campaigns, as Smart Shopping campaigns will prevail over the rest of the campaigns in the same account.
One of the disadvantages of these campaigns is that it doesn't allow adding negative words to the campaign as if it could be done in Google Shopping.
In evaluating the campaign once it has been switched to Google Smart, it is necessary to consider possible external factors such as holidays, vacations or others that could vary the results.
If you run Shopping campaigns and haven't tried Smart Shopping campaigns, take the test because you're sure to get better results.