Determine the contribution of my campaign to my business goal
When creating campaigns in Facebook Ads, it is essential to carefully choose the marketing goal we want to attribute to our campaign. Clicking the promotion button is not the same as creating a campaign with a strategy.
To create a campaign with a strategy, you need to ask yourself what exactly we want to achieve with the campaign, how this campaign will contribute to the business goal and which marketing goal among the 11 proposed by Facebook Ads is in line with that .
Depending on the Facebook Ads goal we have chosen, the platform will optimize ad delivery to users who are most likely to reach your goal.
It is important to note that with Facebook Ads we are attacking the user in a moment of discovery. It is therefore worth considering whether you want to allocate some of your budget to show your ads when they are looking for you, with Google Ads campaigns across the conversion funnel.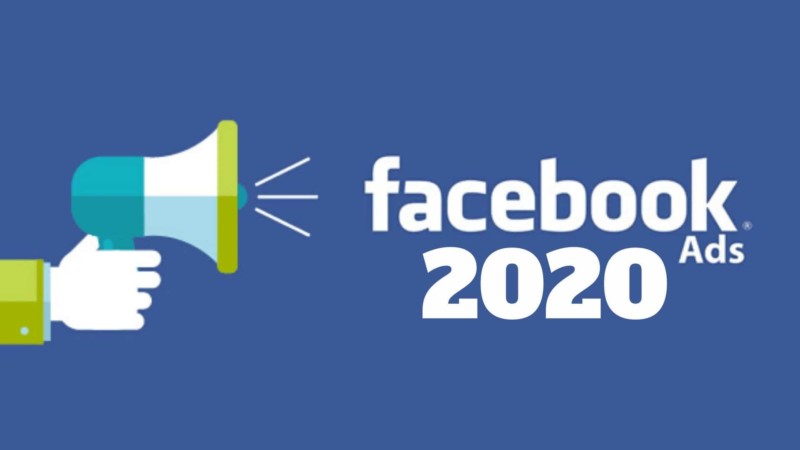 Facebook Ad Recognition Goals
The goals of this stage at the top of the Conversion funnel focus on building brand awareness, as the user doesn't know us. These goals are essential to getting new prospects to discover your brand or to generate rankings and take them to the next stage of the conversion funnel.
Brand recognition
By selecting this target, Facebook tells us that we will reach the users who are most likely to be interested in what we offer. This goal could be compared to distributing flyers in public. We don't just want the customer to know us, but to see us many times to be imprinted on their mind. We will focus on KPI such as frequency, coverage, impressions, CPM.
Coverage
This goal aims to show the ad to as many people as possible and is recommended for advertising your brand. We don't care so much about frequency as the goal of brand recognition.
The last feature of the scope goal allows us to add a module and insert links to direct traffic.
Facebook Ad Consideration Goals
The Considerable Goals are focused on reaching users who already know our brand. Goals that focus on this stage of the conversion funnel seek the user to start contemplating the option of converting with our brand. At this stage it is advisable to seduce him with content that displays the brand's value proposition.
Traffic
The traffic goal aims to direct users to a website or brand application. It is very important to have a page that offers a good user experience to decrease the bounce rate and improve the chances of conversion. It is also essential that the Facebook pixel is configured on your website to subsequently attack these users with remarketing strategies . To analyze ad performance, we will measure CTR, web visits, reach and clicks.
Interaction
This objective is to generate engagement in the promoted publications or with the page. Specifically, this goal is intended to generate likes, comments and shares. It is not a commercial goal.
App installation
With this in mind, we encourage the public to visit the PlayStore or the App Store to download the application. Here we have to include a rather surprising call to action to send the user to the download store
Video plays
With this goal we seek interaction through a video. The algorithm will prioritize the display of the ad to the relevant audience which allows you to get the most plays at the lowest cost. We will measure the residence time and video playbacks.
Generation of leads
The goal of "lead generation" is to encourage users interested in the brand to leave their contact information via a form. With these forms we can collect your names, address, mail, telephone and other information. These contacts give us the ability to move the lead from the consideration stage to conversion in a more direct and meaningful way, from person to person.
The advantage of these ads is that users are more likely to provide their data already, they do not have to leave the platform to do so. However, it must be taken into account that when users leave the platform to complete a form on the web page, they are usually more interested in what we can offer them.
Message
With the goal of messages we prompted the public to converse with the brand. This way, we can answer your questions, offer support and generate leads. Ads usually have a call-to-action like "Contact the company".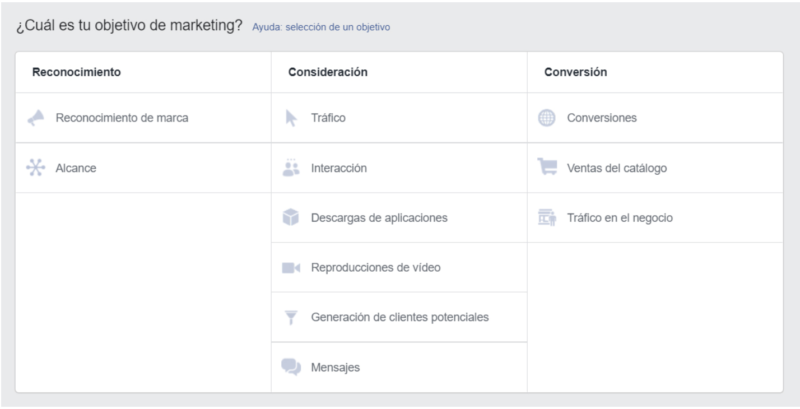 Facebook Ad Conversion Goals
This stage of the conversion funnel aims to push people who are already interested in your brand to generate action on your website, such as a purchase. Facebook's algorithm will then show your ads to the people most likely to generate this action.
Conversions
This goal seeks to get people to reach the web or application and perform a specific action: complete a form, click a button, stay on a page, or get to a particular page. Generate very specific results. To record conversions on the web page or application, it is mandatory to have installed the pixel or the events of the app.
Catalog Sale
Before setting up a campaign of this style, we need to load the e-commerce product catalog into the business manager associated with the ad account. We can then show ads for those particular products to a select audience. This is especially useful when remarketing with users who have performed various actions on your ecommerce site. We can also use Instagram shopping by showing the tagged product in an image. This makes conversion and purchase easier, as several pain points that make it difficult to sell online are eliminated.
Company Traffic
This goal seeks offline conversions. The purpose of the platform is to combine physical visits in the business with people who have seen advertisements or visited our website.
It is important that before entering the platform and choosing a goal, it is clear your goal corporate. If I want my employees to install my application, I will not use Scope Goals
Budget Configuration
It is also important to consider the type of budget you will choose when setting up your campaigns. For this choice you must also take into account your business objectives. Budget types can be assigned at the campaign level or at the ad group level. Facebook will never spend more than we allot it.
Daily Budget
This type of budget is more recommended for short term campaigns or campaigns with interaction goals. However, you need to know that if Facebook sees that the ad is performing well, it will spend our entire daily budget at that time and we will have no budget left for the rest of the day.
Limited time
This means granting a budget to be consumed within a certain specified time period. It is advisable that this time is not too short, so that the Facebook machine learning takes effect and improves the results. This budget is best for awareness campaigns and conversions, for example.
Conclusion
We need to integrate our Facebook ad campaigns into our digital marketing strategy. Each campaign may have a different goal, but they all must finally help bring us closer to achieving our business goal. For each campaign, the Facebook Ads platform proposes 11 different objectives attributable to the recognition, consideration and conversion phases of the conversion funnel. Also, it gives us the ability to choose how we want to spend our budget, and this needs to be aligned with the platform's goal. Finally, other configurations within the campaigns, such as the quality of the creatives, segmentation or offers, for example, should not be neglected as they are very important for the goal to be optimally achieved.